You Save Time
If you have done some research, you will see that previous travelers to Balabac had to ride the passenger van to Rio Tuba, sleep there for a night, ride the passenger ferry the next morning for a 4-5 hour ride to Balabac mainland before you can start island hopping in the afternoon. 
You don't have to do that with us. Our driver will pick you up from your Puerto Princesa lodge at 4am of Day 1 of your tour. You arrive in Buliluyan Port at 10-11am and start island hopping right away. The first island is only 45 mins from the port.
Enjoy a Roofed Boat
While many tour operators in Balabac provide small boats without roof  especially if you are a small group or a couple only (see first photo), all the boats we use are outrigger boats with tarp roof (see second photo) as shield from the sun while you do island hopping.
PS: During intense wind conditions (when there is typhoon or strong monsoon), the roof has to be removed so that the wind will not overturn the boat.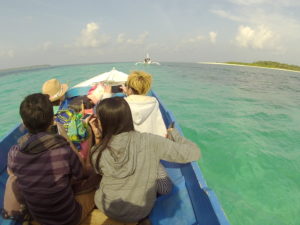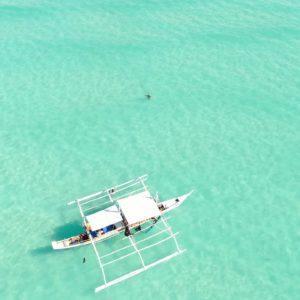 Guaranteed Visit To the best Spots
All highlight islands in Balabac are private properties. Onok Island, the most beautiful and expensive of them  requires every visitor to be given oral permit first by the management before coming. There are some tour operators banned from visiting some islands, too. If Onok is not in their itinerary, that's because they're not allowed to visit. Our local team has developed a good relationship with these owners/managers that is why our guests were allowed to visit even when others are not.